WELCOME
NetTV Plus is a largest IPTV provider of ex YU channels in SD and HD. Watch your favourite channels using latest NetTV Box, PC, Smart TV, or smartphone, all you need is internet connection.
200+ Ex Yu channels available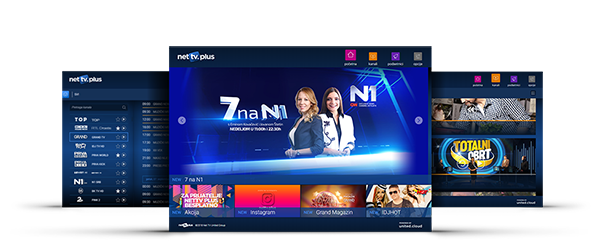 NetTV Plus is offering most popular channels from ex yu region to be able to satisfy that little bit of connection to your homeland.
On offer we have over 200 channels in both SD and HD resolution on almost all devices with internet connection.
Beside TV channels we offer more then 200 most popular Radio stations from the region.
Channels can be watched LIVE or with catch up TV (CUTV) service which enables you to rewind any channel up to 7 days back. Watch what you want and when you want it.
Channels from your homeland
Pink TV package
Sport channels
Grand TV exclusively on NetTV Plus only
HRT Croatian channels
Nova HR, S, M, BH channels
Local movies and TV shows on demand
You want to test our quality? Test our service up to 7 days for FREE. While you are testing our serivice for FREE we will give you full access with all the features. Service can be tested on different devices:
PC
Tablet (iOS and Android)
Smart TV
Smartphones
For channel list, test our service for FREE.         FREE TRIAL
If you have high standards and expectations then NetTV Plus is the best choice for you.
With more then 30 channels available in HD.
Cristal clear picture and  great sound will make your TV watching experience better then ever.
NetTV Plus set-top box is a small device sleek interface and modern software, designed to be easy for use and easy to install, but in the mean time enabling you to HD resolution enjoyment.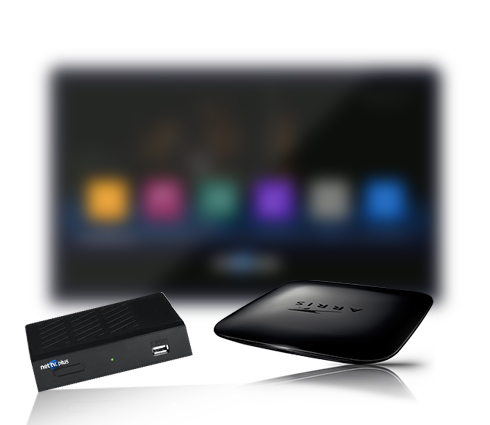 200+ EX-YU channels
HD channels
EPG - electronic program guide
Choose your favourites
Catch up TV (CUTV)
Video Club showing some cult movies from ex- yugoslav cinematography
Video Club showing some of the latest TV shows from the region
Popular radio stations
SetTopBox with HDMI connection
LAN cable connection
Automatic updates to latest software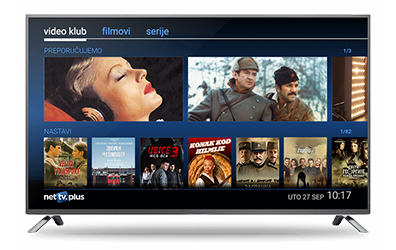 How many times did you miss out on that movie, TV show or sports? From now on you rewind back up to 7 days and watch your favorite content when you want it. Also you can pause live TV.
Easy to use service? YES. In main menu choose the channel you want to rewind, then you choose day/date and TV show you want to watch. Click OK and start watching.  Any channel on offer can be rwinded back up to 7 days. This service is handy for all users, but especially for users from Southern hemisphere because of the timezone difference.